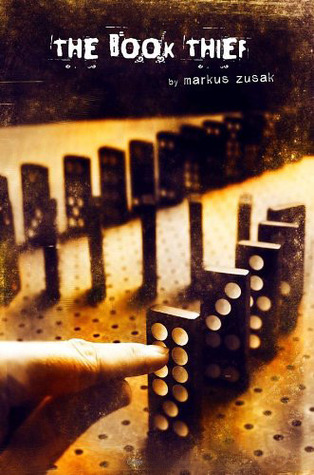 Goodreads blurb: It is 1939. Nazi Germany. The country is holding its breath. Death has never been busier, and will become busier still. 
Liesel Meminger is a foster girl living outside of Munich, who scratches out a meager existence for herself by stealing when she encounters something she can't resist–books. With the help of her accordion-playing foster father, she learns to read and shares her stolen books with her neighbors during bombing raids as well as with the Jewish man hidden in her basement.

In superbly crafted writing that burns with intensity, award-winning author Markus Zusak, author of I Am the Messenger, has given us one of the most enduring stories of our time.
Now that I have a bit more time on my hands, I have been trying to squeeze in more of the things that make me happy, like: yoga, smoothie blending, housewives watching, and reading. I have given myself the goal of alternating fiction/non fiction to mix things up a bit. After many enthusiastic recommendations via Facebook, I started The Book Thief last week. I am currently about 20% of the way through (thank you kindle) and I cannot put it down! Will check back in with my review when I am finished.
What are you currently reading? Any non-fiction recommendations for my next read?